ANGELO RAAIJMAKERS
Filmmaker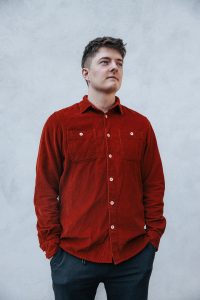 Angelo Raaijmakers grew up in the southern part of the Netherlands. He spent a lot of his time in the woods, creating his own fantasy worlds. Angelo fell in love with the medium of film, when he discovered that he could bring his fantasies to life through the art of cinema.
With his imaginative vision and an interest in psychology, Angelo uses elements of the fantasy- and horror- genre to create suspenseful, dream-like films in which he explores the dark sides of our minds. His work gives the audience an unique perspective on psychological issues to endorse conversations and new insights about them.
In 2020, for example, Angelo made the short film When I Explode: a film about the dubious millennial Chris, who thinks that he has a bomb in his stomach and that he is going to explode. Angelo recently finished the short film I, Adonis, which tells the story of fitness addict Nicky, who's body obsession sets off in an unhealthy direction when old childhood memories emerge.
Angelo's alienating, but open-hearted work resonates with audiences both national and internationally. When I Explode has been screened at more than 25 film festivals, including the Netherlands Film Festival, the Nashville Film Festival and the Uppsala Short Film Festival in Sweden. I, Adonis premiered at the Toronto After Dark Film Festival and recently won the International Competition Audience Award at the Landshut Short Film Festival.
Angelo graduated from the School of Art & Design, AKV|ST. Joost in Breda in 2015. His goal is to one day realize a feature film starring his favorite dinosaur: the Parasaurolophus.